Mother Teresa students create an Indigenous inspired masterpiece!
23 Oct 2018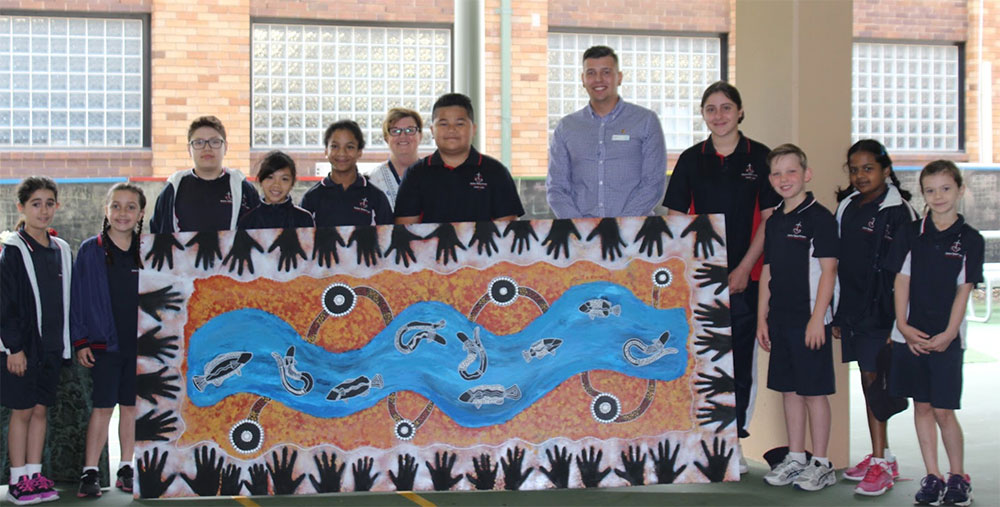 Students from Mother Teresa Primary in Westmead combined their creative skills to produce a unique Aboriginal mural which will now take pride of place at the school on a permanent basis.
The mural entitled "Burramatta", Burra which means place and matta, meaning eels, was unveiled during a special assembly at the school.
The beautiful mural took a day to produce with thanks to Catholic Education Diocese of Parramatta Aboriginal Education Assistant Josh Sly.
"It was one of the easiest art works I have had the privilege to work on at a school because the students had already spent some time on their ideas and were well organised," Mr Sly said.
The mural features the students' hand prints around the border, indicating their ownership of the art work. It includes a depiction of the land and the lovely sky blue river flowing across it, which represents Parramatta River, a massive lifeline for the local Darug people.
Within the river flow are eels, which are commonly found in the area.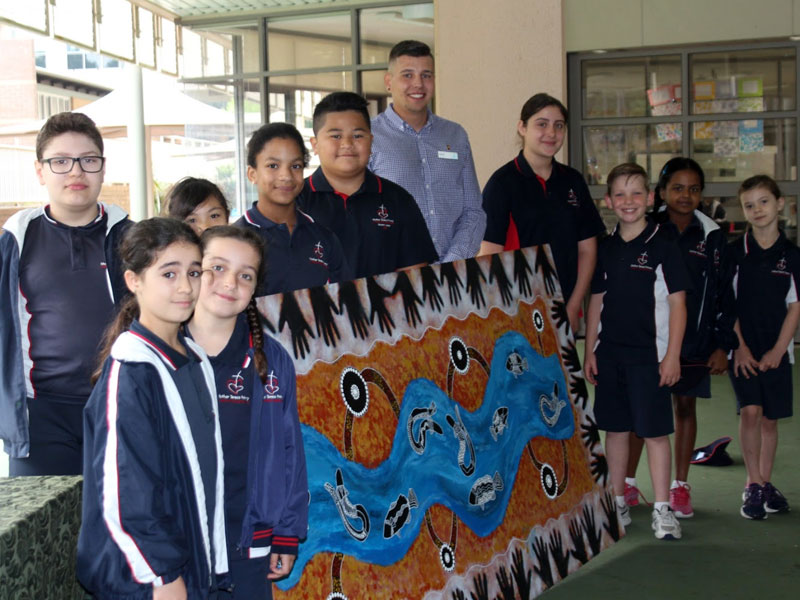 Coordinator of the art project and Religious Education coordinator Maria Boyd said it was a great effort by everyone.
"It was wonderful to see the look on all the students' faces when the artwork was unveiled. It was like WOW!", Ms Boyd said.
We have an Acknowledgement of Country featured on a prominent wall at the school and we will mount the artwork underneath it.
Mother Teresa Principal Elizabeth Devlin said years ago the school had created an artwork of an Aboriginal rainbow serpent, however, it's condition had deteriorated over the years and it was time to create a new piece of artwork.
"I could not be happier with what the students and Josh have managed to produce. Everyone involved should be very proud of themselves,'' Mrs Devlin said.
Facebook
21 Sep 2023

Heartlinks Highlights Term 3 Week 10 - MTP Wrtiers' Festival 2023. Check out some of the great writing from our recent Writers' Festival - well done MTP authors.

08 Sep 2023

Heartlinks Highlights - Term 3 Week 8 - Father's Day. In this week's video, our MTP students share some beautiful reflections on their Dads.