Collaboration is key to learning at Westmead Education Precinct
02 Jul 2018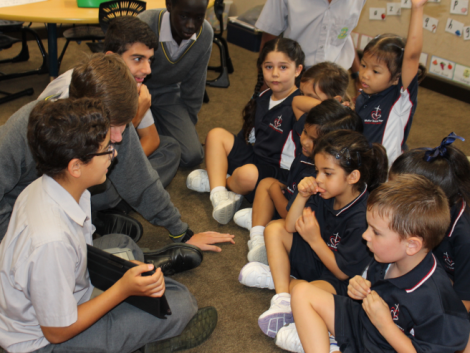 Mother Theresa Primary Kindergarten students engaged in a French iBook created by Parramatta Marist High students
Mother Teresa Primary, Westmead and Parramatta Marist High worked together in the last week of Term 1 to support French and Spanish language programs.
Year 8 students from Parramatta Marist High wrote and illustrated children's iBooks in either French or Spanish. They used basic beginner's topics such as alphabet, animals, numbers and colours with each book focused on the culture of a different French or Spanish community around the world.
The Parramatta Marist High students and Sisters Teresa Duch and Mary Martinez from the Missionary Daughters of the Holy Family of Nazareth in Spain who are working in the Diocese visited Kindergarten and Year 1 students over three days to read to and teach them about the culture and language they are studying.
French teacher Emily Liecini organised the program and said her students learned much more than just a new language.
'They had to teach themselves 10 keywords then teach the rest of the class, so the idea of the project is a lot of self teaching and learning how to learn, presentation skills and creating the children's picture book which had to be based on a French speaking country around the world,' Emily said. 'So the students also had a lot of deeper learning and some problem solving.'
'They have a real world audience and have been acting as authors and illustrators,' she said. 'They have learnt leadership skills and teamwork through this project.'
Mother Teresa Primary Kindergarten teacher Kim Hutchins said the exposure to the new languages really helped her students learn more about the world.
'In Term 1 of Kindergarten, everything is new to the students like days of the week and new sounds in English,' Kim said. 'I think it's great for them at this stage and at this point in their learning just to have that exposure to a different language.'
'They're only learning one and two words at a time but I think it's good for them to hear it and to know there are different types of languages we can speak,' she said.
Parramatta Marist High Year 8 French students, Reece Murray and Ethan Mort, really valued the experience and took away some new pointers from the experience.
'It's good to help educate the students, have a laugh and make sure they were having fun,' Reece said. 'We've learnt to make everything we do a little more interactive and try to make it engaging.'
Facebook
21 Sep 2023

Heartlinks Highlights Term 3 Week 10 - MTP Wrtiers' Festival 2023. Check out some of the great writing from our recent Writers' Festival - well done MTP authors.

08 Sep 2023

Heartlinks Highlights - Term 3 Week 8 - Father's Day. In this week's video, our MTP students share some beautiful reflections on their Dads.