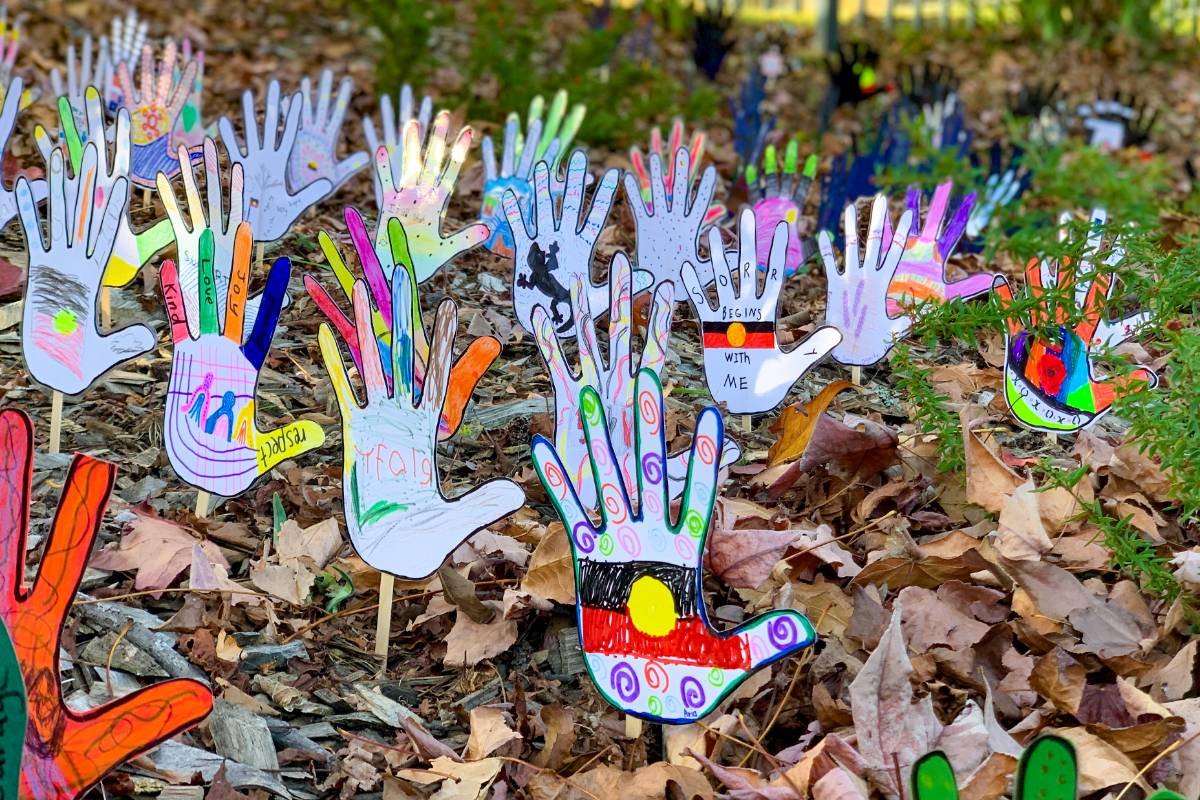 Our Lady of the Nativity Lawson's Sea of Hands
'Sorry begins with me,' read the message on one hand in a Sea of Hands as Our Lady of the Nativity Lawson joined a number of Catholic schools in the Diocese of Parramatta replicating the display which 24 years since its inception, continues to serve as a powerful symbol of reconciliation, hope and public support for Aboriginal and Torres Strait Islander peoples.
It was one of many important messages students wrote on their 'hands' as Our Lady of the Nativity Primary joined St Finbar's Primary Glenbrook, Catherine McAuley Westmead, Mother Teresa Primary Westmead and St Paul's Catholic College Greystanes in creating beautiful displays for Reconciliation Week.
The Reconciliation Week theme in 2021 is: More than a word. Reconciliation takes action and students and staff certainly recognise the need to take an active role when it comes to Reconciliation.
"Seeing everyone write something on their hands has motivated me to actually do what is written. We should put our words into action," said Year 11 student Naveena Navaratnam from Catherine McAuley.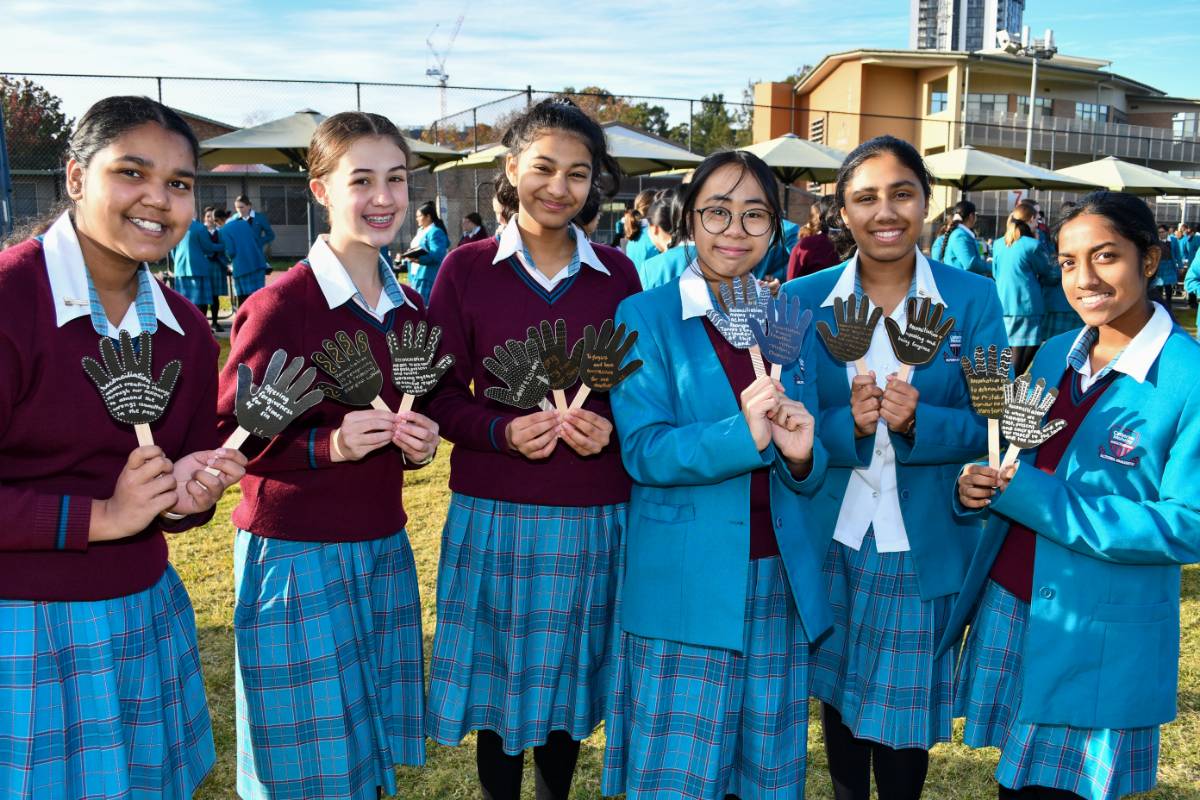 Students from Catherine McAuley Westmead and Mother Teresa Primary Westmead combined to make their Sea of Hands.
It was back in 1997 when the first 'Sea of Hands' was presented outside Parliament House and every year since then, many schools have adopted the display as a way of helping students learn about indigenous culture, history and how we all contribute to achieving reconciliation in Australia.
"It's very important that we help students understand the importance of learning from the mistakes of the past and working hard to never repeat them," said Principal Lisa Samojlowicz from Our Lady of the Nativity Lawson.
"Reconciliation week is a time to remember the truth about our Indigenous people in Australia," was a group response from Year 5 and 6 students at Our Lady of the Nativity. "It's about saying sorry, putting ourselves in somebody else's shoes, listening with hearts and minds to better understand how we can bring change, justice, hope, dignity and see God in all things."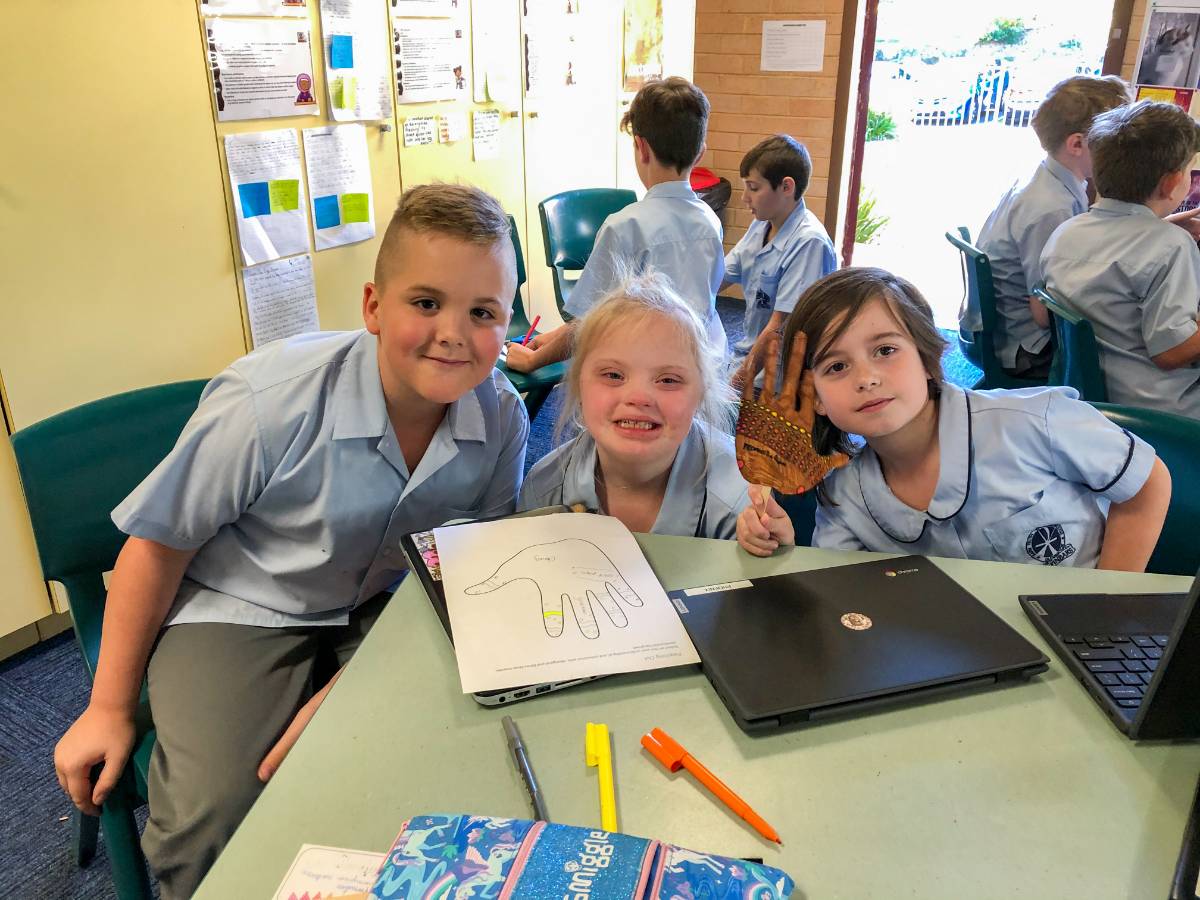 Students at St Finbar's Primary Glenbrook enjoyed creating their 'hands'.
"Students could see that in our Sea of Hands every hand was created differently," added St Finbar's Primary Glenbrook Assistant Principal Ben Ticehurst. "That each hand was unique, but as a group we created something beautiful."
"Our world is full of unique, diverse people that we should celebrate and as individuals and a school community, we need to support all people to feel safe, included and appreciated. We also learned about the importance of cultural respect and historical acceptance. It is by acknowledging our mistakes of the past that we can grow and reconcile together."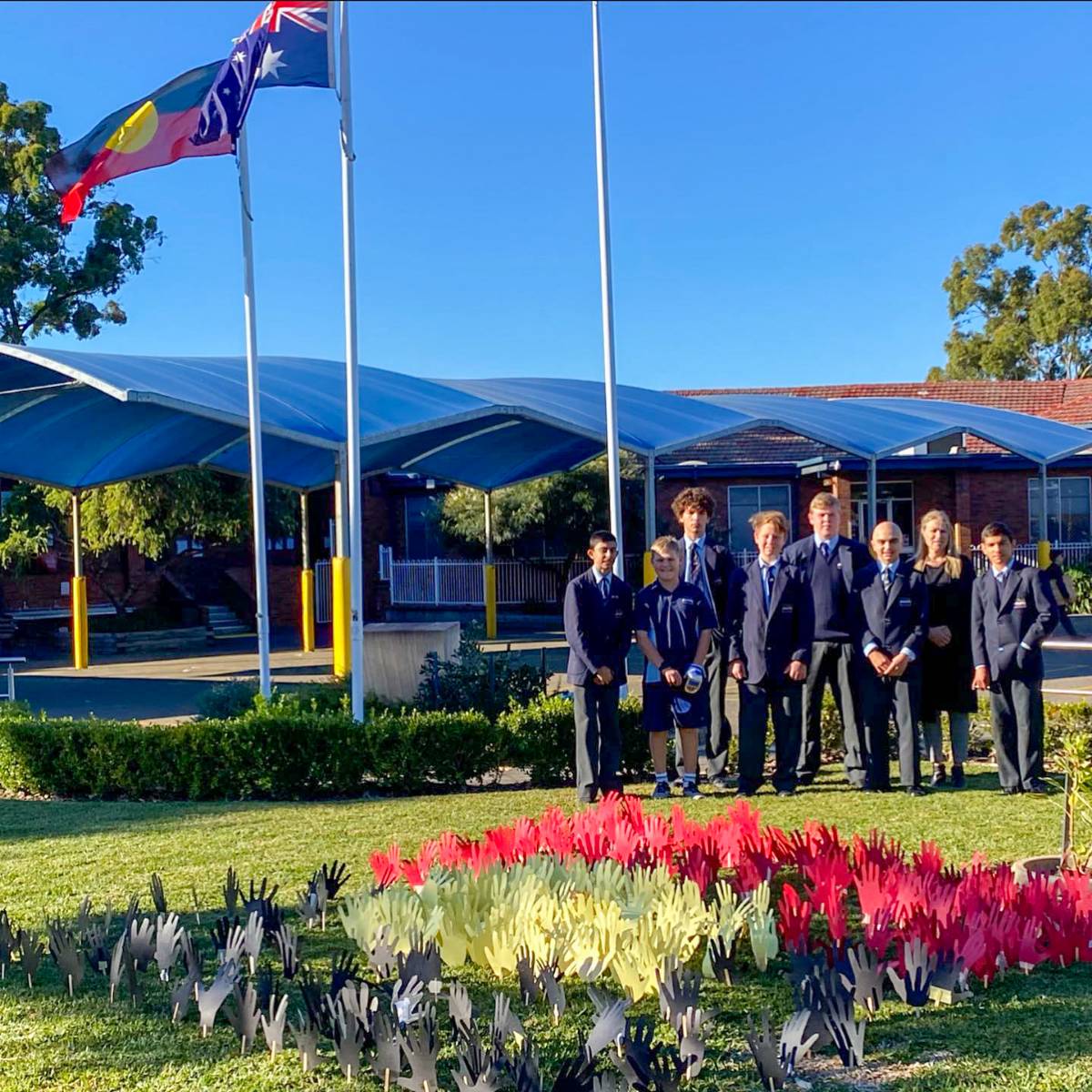 Mrs Duarte, Aboriginal and Torres Strait Islander school liaison officer at St Paul's Catholic College Greystanes helped organise the school's Sea of Hands.
At Catherine McAuley Westmead, their group the Strong Sisters, coordinated the school's activities during Reconciliation Week. The group of 17 students spoke at a recent school assembly about Reconciliation Week and explained why it is important. They also visited the nearby Mother Teresa Primary School and explained to primary students what it means to be indgenous and why Reconciliation Week matters.
"To me Reconciliation Week is important because it is reminding us what has happened in the past and acknowledges the apology made by Prime Minister Kevin Rudd", says Allira Harrison, a Year 9 member of the Strong Sisters group. "Reconciliation Week is not just another date on the calendar but a week where we remember the stolen generation and the abuse which has happened to Aboriginal and Torres Strait Islander people".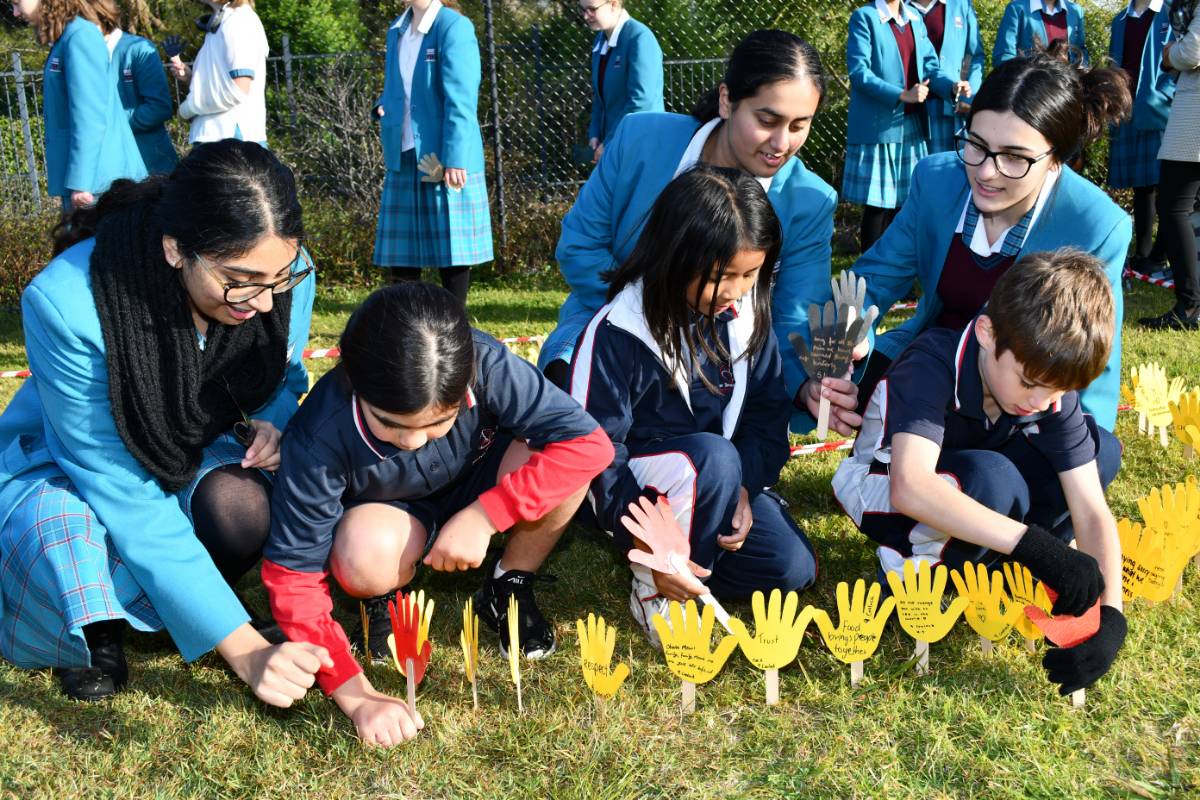 Every morning during Reconciliation Week students from Catherine McAuley and Mother Teresa Primary School came together to create a Sea of Hands along the Catherine McAuley school hockey fields.
"The Sea of Hands represents solidarity as a community which speaks out for justice", said Sheryn Lucas (Year 11). "We should accept our faults and become better".
Ms Fiona Stewart-Sandeman, Coordinator of Strong Sisters, says the activities during Reconciliation Week have been quite an eye opener for many students.
"It has been a learning experience for many students who were not aware of the treatment of indigenous Australians," she said. "The Strong Sisters Group aims to promote awareness of these issues within the school community and to give them a voice."
With 80 schools across Western Sydney and the Blue Mountains, CEDP is working towards its first Reconciliation Action Plan. In 2022, CEDP will also host the Aboriginal and Torres Strait Islander Education Conference.